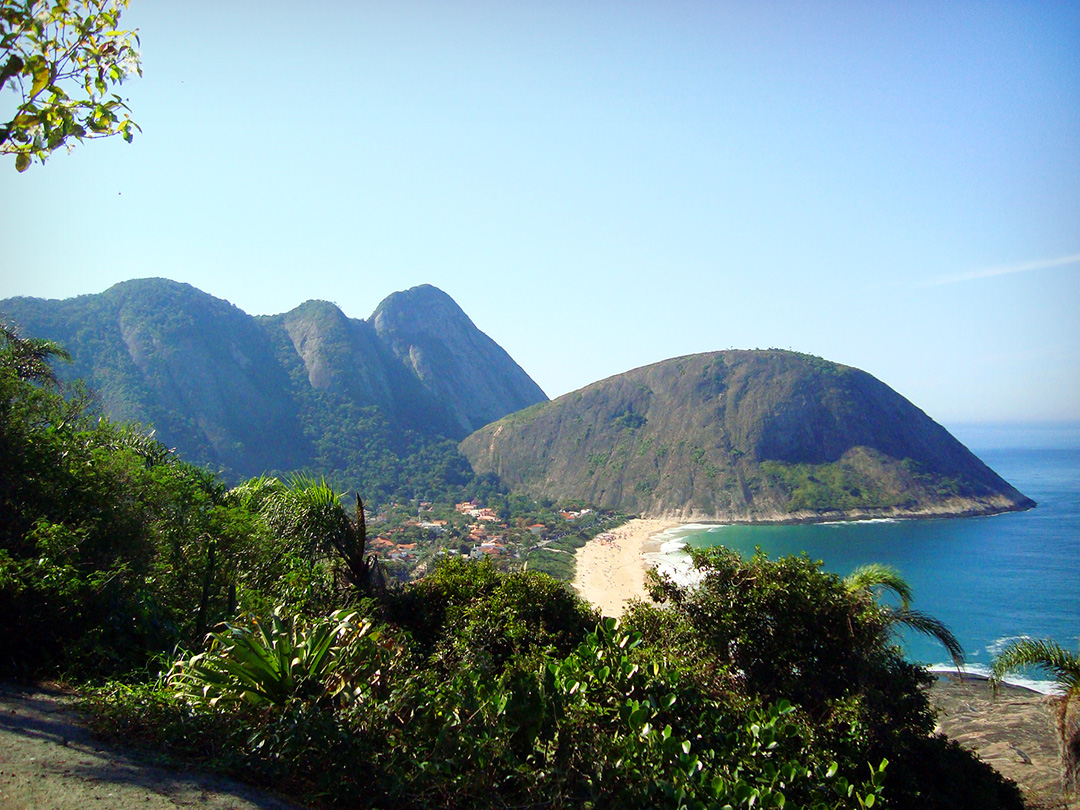 The Andorinhas Hill is an elongated elevation of 2.6 km in length and 196 m of altitude that advances on the sea, dividing the beaches of Itaipu and Itacoatiara. The denomination is due to a grotto in one of its faces, where swallows make their nests, a place of refuge to spend the night.
Begin by climbing the steep and cemented slope next to n 1,093 of Rua da Amizade. After about 60 m walking, the slope becomes less steep and, gradually, the pavement is giving way to a dirt road. Pass some houses and, 300 m later, take the path on the right, climbing a few meters towards a gate that marks the beginning of the trail, always well defined, with few obstacles and gently rising the long crest of the Swallows, crossing the medium-sized forest.
Just after the trail begins, there is a curve to the right, heading southwest. With a further 270 m, just over 5 minutes from the start, you reach an entrance on the left, next to a sign for the first belvedere facing Itacoatiara Beach and facing the main attractions of the park. This viewpoint is called Pitangueira Belvedere, located near a traditional community that lives on this slope known as the Community of the Jaqueira Site.
Returning to the main trail, a few meters ahead, turn right at a fork, signposted by another plate, and continue crossing the forest for 50m until you reach the Oceanic Region Belvedere, leaning over the Itaipu Neighborhood, practically in front of the link Beach with the Itaipu Lagoon. In this viewpoint, what attracts the attention of the visitors is the view of the famous mountains of the city of Rio de Janeiro.
After exploring the beautiful belvedere, head back to the main trail and continue walking southwest to the Itacoatiara Viewpoint, 180 m later, in less than 5 minutes walking. This one looks similar to the one of the first, but it is the main viewpoint of the Andorinhas Hill, practically facing the park's postcard. From there you can see the Itacoatiara Beach, the Costão deItacoatiara(Tucum Hill), the Elephant Stone (Alto Mourão), the Stone of Solitude, the Telégrafo Hill and the continuation of the elongated Tiririca´s State Park.